Tags in UPilot significantly expand how you can customize your contacts by grouping them together the way you would like to. They can be used to filter your contacts by country, or whether they are decision makers in their organization, or in any other way you would like. 
Adding Tags to Contacts
You can create and add your own tags for each of your contacts and deals.
Open the contact where you would like to add a Tag. This can be either a person or a company.
 'Tags' are located in the section "Description". Click on 'Add tags'. This will open the Tags popup.
Select the Tag(s) you want. You can select multiple Tags. Alternatively, you can also create a new Tag in this box itself.
Click 'Assign Tags and Close'.
Your tag(s) has now been added to the Contact.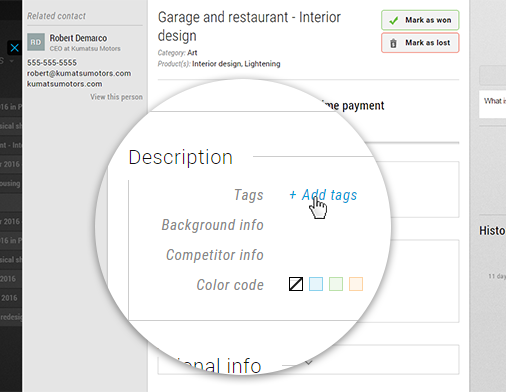 Removing Tags from a Contact
If you feel that a Tag is no longer required for a contact, you can remove each of them as and when you would like.

To remove a tag, 
open the contact from which you would like to remove it
In the Tags field, hover over the tag and click on the 'x' to remove it

Alternatively, you can click the '

+

' sign to go to the Tags popup and deselect the Tag you would like to remove
The Tag has now been removed from the Contact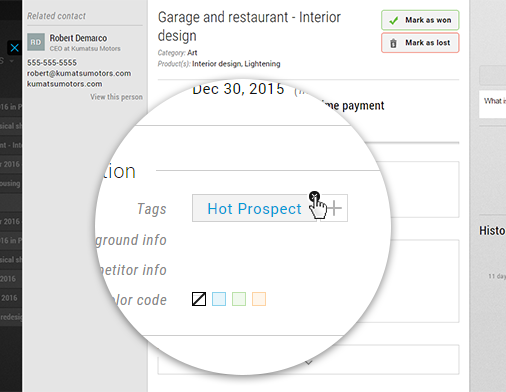 Using Tags to filter better
Tags are an extremely powerful functionality to help you find information in very different ways. For example, you have over 50,000 contacts in the CRM and you would like to see a list of all the people in the UK who are decision makers.This situation can be handled by Tags – For example called UK, and Decision Makers.To filter using the above tags, you can do this by:

Go to the contacts section

Click on the

filter icon

to open the filters

Click on

tags field

to open the Tag popup

Select the required tags to be used to filter

Click on

Apply
Your Contact table will now show only the Contacts tagged with the selected tags.