While you can by default easily track and compare the 'total sales booked' by each individual salesperson, a team, or your entire organization as a whole, you can also track performance against specific goals or quotas set.
Using the goals, at any time, you can check how well the salesperson is doing or whether they will be reaching their targets.
Setting a Goal
To set a new goal, you can: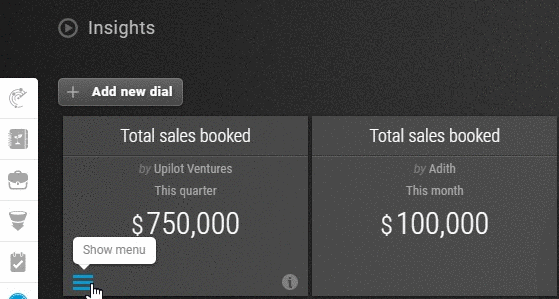 Go to the Insights section
Hover over the dial "Total sales booked"
Click "Show menu" on the bottom left corner of the dial
Click on "Set Goal" next to the "Goal:"
Enter the goal value
Close the menu by clicking on 'X'
Your goal value for the selected dial is now set. You will see the progress against the goal at the bottom of the dial.
In case your dial does not have data to be displayed and shows 'No Data', the goal will not be visible as well. However, the goal will automatically show once there is more data in the dial.
Editing an Existing Goal
To edit an already existing goal for a dial, you can:
Hover over the dial whose goal is to be edited
Click 'Show menu' on the bottom left corner of the dial
Click on the goal already entered to enter the edit mode
Enter the updated goal value
Click on the 'X' to close the menu
Your goal value for the dial has been updated and you will now see the progress against the new value
Pro Tip:
You can also set up a goal to track against sales for a particular category of products by opening the dial > Clicking on '+ More options' > Selecting the category/product
This article is a part of the 'Insights' series. Articles in this series include: