Manage all your documents with an ongoing deal or a contact with a simple attachment system so you never lose track of documents again.
Your various documents can be attached to a note in your Contacts, Deals, as well as Tasks.
Uploading a Document
To add a document, Open any Contact, Deal, or Task
Start typing a note related to the attachment
The 'attachment' icon will now appear, which you can click to select the document to be uploaded
Select the document(s) to be attached (Upto 5 documents can be attached to a note at any time)
Your document(s) will now start to upload
Once the document(s) has finished uploading, click on Save Note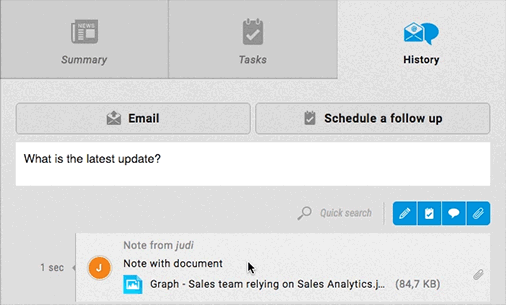 Your document has now been uploaded and attached to the Contact / Deal / Task.
Managing Documents
For any Contact, Deal, or Task, you can use the filters in the notes to view only the various attachments you have.
To view only your documents:
Open the required Contact, Deal, or Task
Toggle the filters to view only the documents

Only your notes with attached documents would now be visible.
Pro Tip: 
Any documents attached to a Task or a Deal will also appear in the Related Contact. This way you can attach the document at the perfect point of your sales process and it will be visible no matter what part of the system you are in.