In UPilot CRM, you have the flexibility to create your own custom lists for contacts with the filters that you want by saving them as a view. A custom list acts as a quick way to save your filters and quickly get to the information you are looking for on a regular basis. You also have the option of selecting your default custom view when you prefer to see only specific information every time you log in. 
Creating a Custom List
You can create your custom list in the following manner:
Go to the '

Contacts section'

Click on 'Show filters' icon on the right side of the screen

Select the required filters
For example, in the image below, we have selected the Contacts Status 'Client' as a filter

Click on the

'Save Icon

'

at the top of the filters section



Enter how you want your

view to be named
For example, here we have chosen to name our view: Clients

Click '

Save view'


Your custom view has been saved
Accessing a saved view
To go to a view that you have already created, you can do so by:
Go to the 'Contacts Section'

Click on the name of the current view located next to the text 'Contacts' on the left side of the screen to open the saved views list

Click on the view you would like to see
Your selected view is now displayed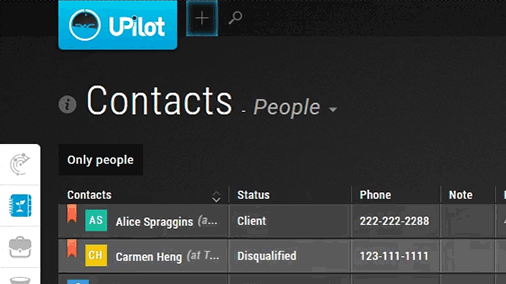 Changing the default view
You can mark any view as default, and this will be the view that loads when you login to your account. To mark a view as default:
Go to the 'Contacts Section'
Click on 'Show filters' icon on the right side of the screen to open the filter list
Click on the 'down arrow' to see the list of saved views
Click on the edit icon that appears when you hover over the view name
In the edit popup, check 'Make this my default view'
Click 'Save'
Your default view has been changed

Pro Tip: 
If you want to see specific information in other parts of your account such as in Deals, Tasks, and Pipeline, you can create multiple views there as well! Here's how you can create multiple views in your
Pipeline
.